Dogs helping to improve the lives of children with autism spectrum disorder
The JABCECC is developing a novel Read to Dogs program to improve the communicative skills and reading comprehension of children with ASD. This novel program will include incorporating rescue dogs as the therapy dogs, therapeutic stories created by award winning children's authors, and experts in human-dog relationship. We are requesting funding to conduct a pilot study to determine the efficacy of the program prior to implementation. If you are interested in collaborating or providing in-kind or financial support for this program, please reach out to us. We are in need to collaboration with autism groups, animal assisted therapy organizations, and experts in education.
Conservation of the New Guinea Singing Dogs
The JABCECC is collaborating with experts in genetics and NGSD enthusiasts to perform a pilot study to help better understand the genetic diversity of the captive bred NGSD population. The study will focus on obtaining the DNA of a small group of singers and through the testing abilities of Embark Vet determine if through this process, genetic diversity can be maintained.
OUR FIRST CONSERVATION LITTER!!!!!
Collaborations with Academia and experts in canine cognition
The unfamiliar person giving Maksa, our Russian domesticated fox a pat on the head. Note she is in the circle of love (as we call it).
This study was done in conjunction with ASU Canine Science Collaboratory with Dr. Clive Wynne. The purpose was to assess the prosocial behavior of our Russian domesticated foxes (Belyaev foxes), Captive Bred foxes, and the New Guinea Singing dogs. Clive's group has also conducted this experiment in various breeds of domesticated dogs and wolves. Understanding these behaviors better allows researchers to gain a better understanding of the process of domestication which has the potential to increase the understanding of various social bonding disorders in humans.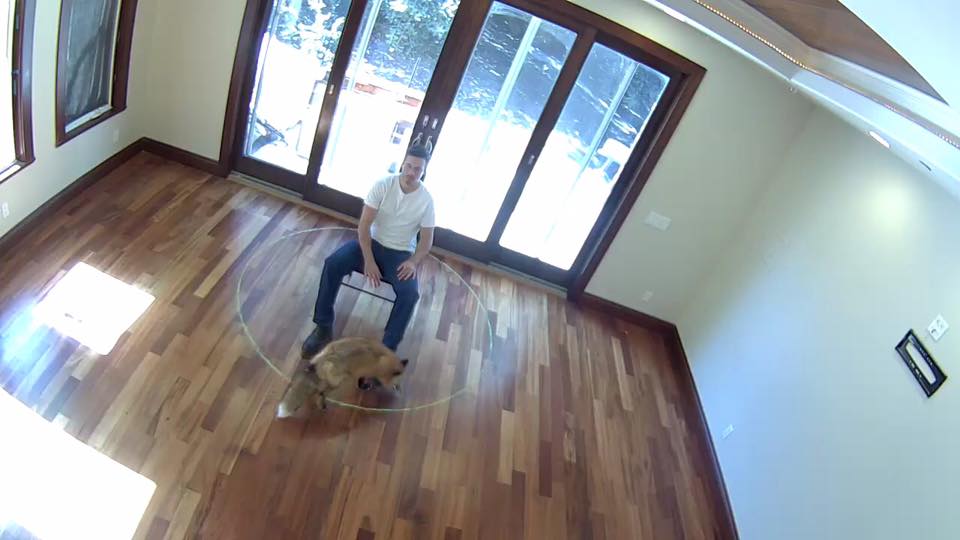 The unfamiliar person in the non active phase of the experiment with Viktor, our Russian domesticated fox. Note he is also in the circle of love.
Dr. James Sacco presenting his research
Researchers often look to primitive canids to gain knowledge on the genetic origin of many disease conditions that affect both humans and dogs. One such researcher is James Sacco, B.Pharm. (Hons.), M.Phil., Ph.D. from Drake University. His interests include discovering the genes that code for enzymes that detoxify various environmental pollutants. Upon hearing about his work, we offered to supply saliva samples from our NGSDs, an offer which he promptly accepted. Upon hearing about our population of Russian domesticated foxes (Belyaev foxes), Dr. Sacco asked if we could also supply saliva samples from them. The foxes were happy to oblige!!
Mikhail, our Russian domesticated fox, giving his saliva swab.
Maksa, our Russian domesticated fox, giving her saliva swab
Interactive Educational Events with the Ambassadors
The JABCECC offers interactive educational events with our Ambassadors for all ages!! If you are a school, educational facility, non-profit, organization, corporation, or individual and want to schedule JABCECC to provide you and your group with the amazing experience of meeting our Ambassadors, let us know. We offer all events off -site currently - so that means we will come to you!
Interactive Education seminar with a chance to meet and interact with the Ambassadors: 1 hour-3 hours.
Storytime with the Cupcakes featuring some age appropriate educational books like FoxTalk by LE Carmichael. What better way to incorporate reading, reading outloud skills, and learning about the importance of animals than to have children participate in reading while interacting with the Ambassadors!
Academic institutions and canine experts: Understand fox behavior and morphology up close. Explore the differences in the Russian domesticated foxes and captive bred foxes. Understand influences of nature and nurture on behavior and development.
Birthday parties and events: How cool would your party be with our Ambassadors? Summer BBQ with our Ambassadors?? Watch your hotdogs!!
Film and Photography: Want to add something super foxy to your photoshoot, advertising, or portfolio - let us know!!
Have something else in mind - contact us... we would love to share our amazing animals with you!
We do require a donation to the center and reimbursement for travel expenses.